Hi Friends Today in This Article We Are going to see the TDA 7388ic based 4 channel Amplifier Board
TDA 7388 ic is A class a-b Amplifier functional With single supply dc. There are Four-Channel Audio Input And Four-Channel Audio Output. This Ic recommended Supply Voltage is 12v to 18v. Similarly, You Can get a maximum of 40watts Power Audio output Per channel. If You Are Giving 12v Power Input Then You will Get 25watts Audio Power Output Per channel.
Similarly Recommended speaker ohm size for this 7388 ic is 4 ohms… If you are using 8 ohms speakers then the sound and volume level will be very low. This 7388 Ic Requires Very less components, so you can Purchase ic and components separately and make it with dotted PCB.
For using this Board you should Connect this board with the Gainer board.. because this 7388 ic Audio power output is very low, so if you are using two channels then use a two-channel gainer. Or if you are using 4 channels then use a four-channel gainer board.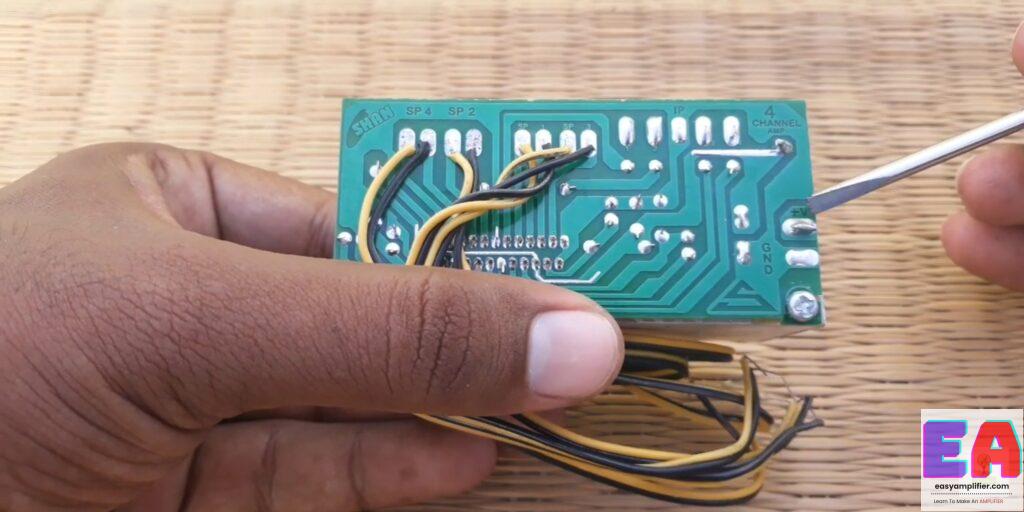 Which types of Amplifiers can we assemble With this 7388 4 channel amplifier board?
We can assemble Car Amplifiers Like Pioneer, JBL, Sony Types of Amplifiers With this board. Because in this board Four-channel Audio output. If you assemble A car amplifier With this board You Can make a perfect stereo Output for front and rear speakers. at the same time, if There Are any faults in the Branded Amplifier board, we can simply Alter that ic board with This Tda 7388 ic board.
Now we Are going to see the input and output Connection Details For this board
12v DC input
GROUND
Audio Signal input 1
Audio Signal input 2
Audio Signal input 3
Audio signal input 4
SPEAKER OUTPUT 1
SPEAKER OUTPUT 2
Speaker output 3
Speaker output 4
Click here to See the tda7388 ic datasheet
So that's all Friends If you have any questions About this TDA 7388 4 channel amplifier board Please let me know in the comments section below 👇
And Follow Me on Facebook and telegram for Regular post updates.