Hi music lovers today in this article we are going to read about the Best High quality Bass treble board
Table of Contents
High quality Bass Treble board uses
Board treble boards or tone control boards are frequently Used in Assembled amplifiers. 
Why is the bass treble board important?
Now you Can ask why we should use a bass Treble board when we have input sources and should connect Directly.
In my answer when you give the Input signal directly to the Power amplifier source You will get very Low power Audio gain and can't hear Your desired Audio result. Whereas if you give a Signal to the bass Treble board Then give input from the bass treble board to The power amplifier board you will get Good audio quality and You can Also Control the bass and treble according to your audio taste. 
Bass treble boards come in two types 
Passive Bass treble
Active bass treble
Passive bass Treble
Passive bass treble Connections work without a power supply It will Work with Resistors and capacitors. Giving input With resistors and capacitors with volume control is enough to get the bass and treble Effect. I will write a separate article on connecting Passive Bass treble Connections and circuit diagrams.
In this type of Bass treble Connection, you can see an old type of FM receiver and Amplifiers.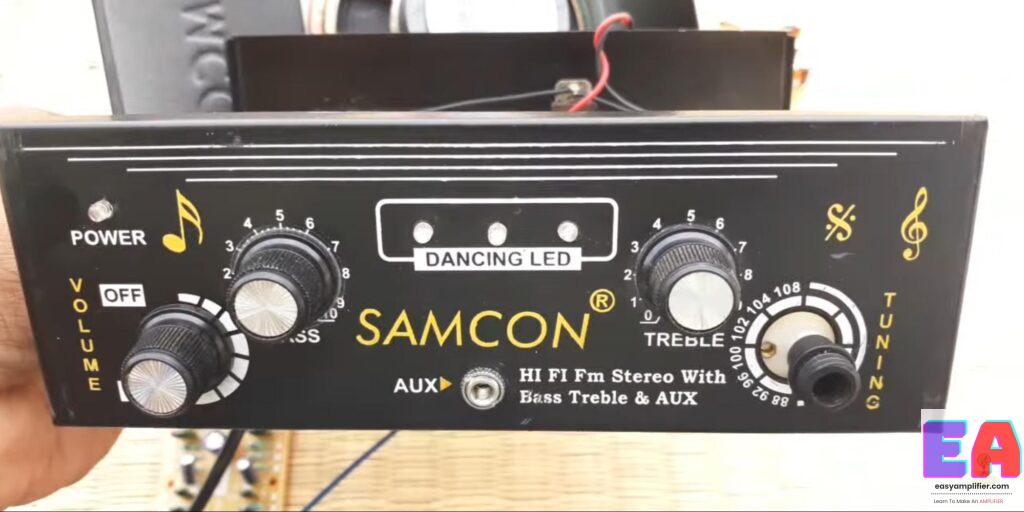 As you see in the above image only a Few resistors and capacitors to get the bass treble Effect. As I mentioned earlier these types of boards don't Need a separate power supply. So that's why we call these types of boards Passive bass treble boards.
Active Bass treble board
These types of boards are used with active electronic components like transistors, operational amplifiers, and integrated circuits along with Resistors and capacitors. These boards work only when you give an Input power supply. So that's why we call these Boards Active bass treble boards or action tone control boards. These two types of boards are only commonly used.
So here I am Going to show you some best active bass treble boards which will work with single-supply or dual-supply DC. Some boards are working with a 12v supply. and some boards work with dual power supply.
1. ATC BT (Active Tone control Bass Treble)
This board works with 12v single Supply dc. This board is mainly used in Normal amplifiers like homes and vehicles.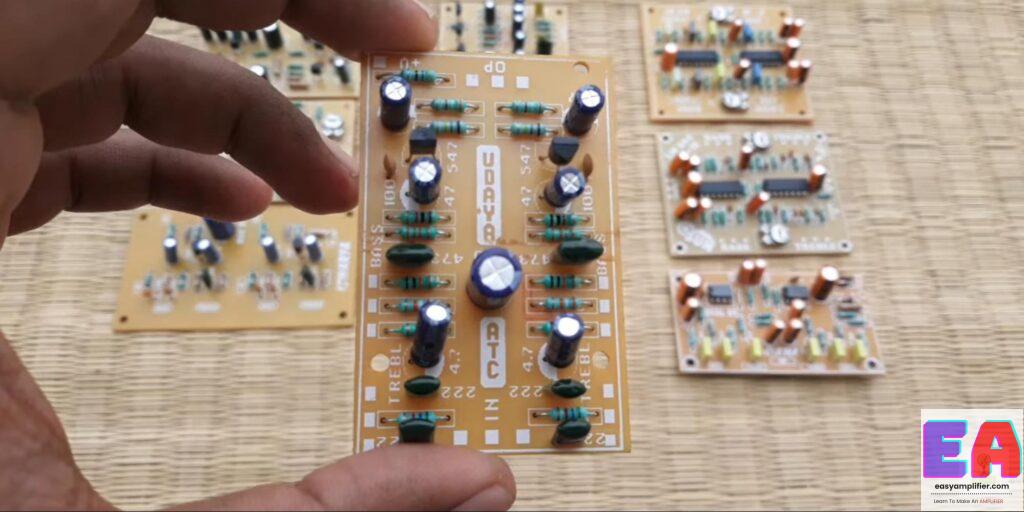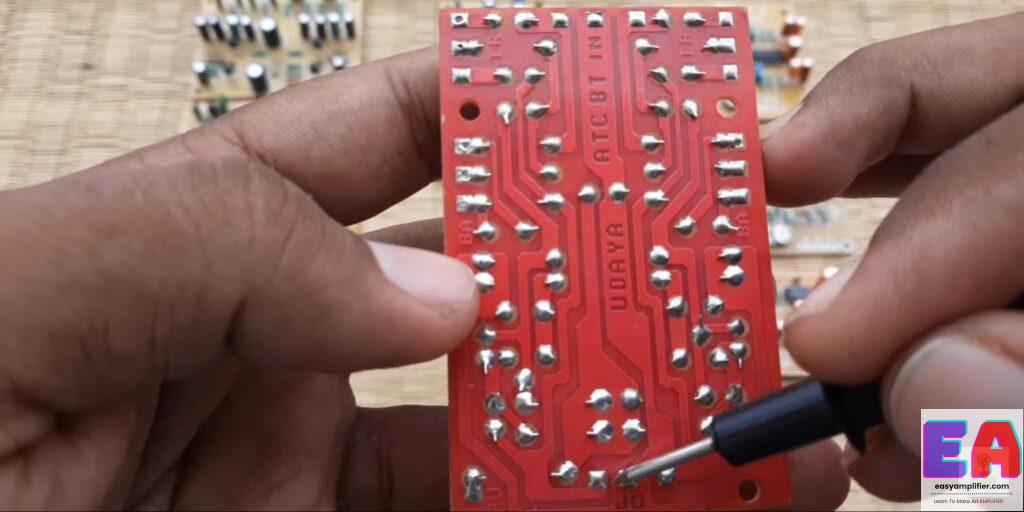 All the connections are mentioned in this board.
2. Bus BT
This board is similar to an ATC Bass treble board. These types of boards are mainly used in Automobile Amplifiers. And this board Also works with a 12v single supply DC.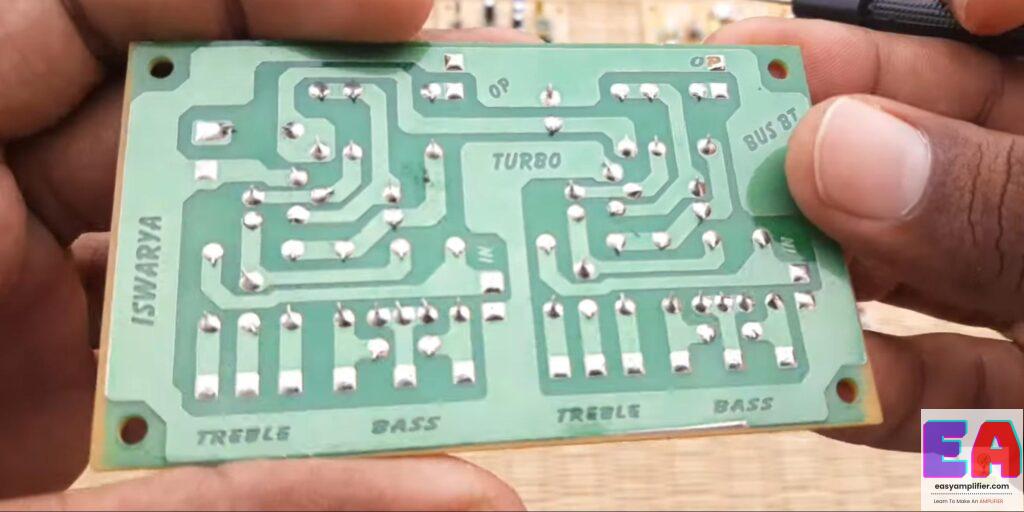 All the connections are mentioned on this board.
3. Udaya BT4 
This Board Operated with four transistors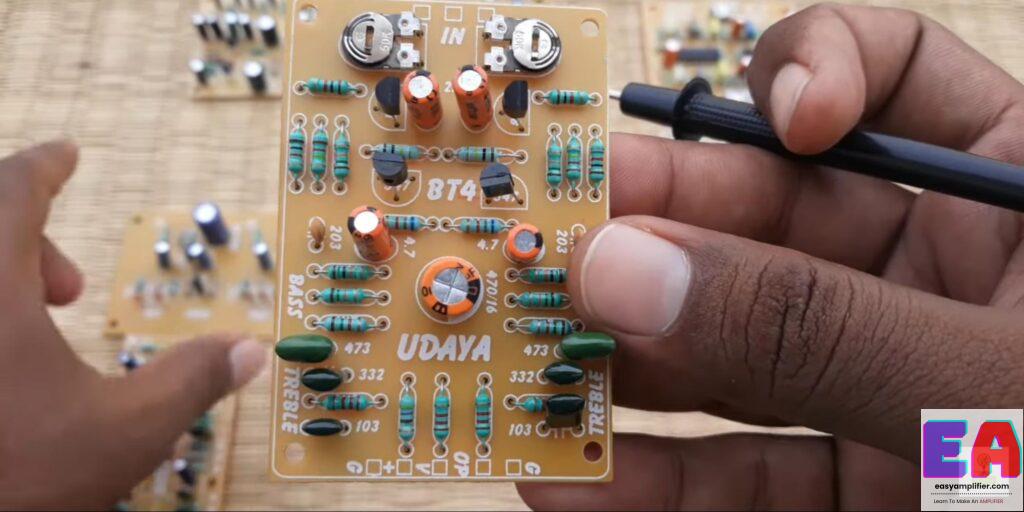 Normal Bt boards are working with two transistors only. But these types of boards work with four transistors for controlling the audio gain. And this board has a separate adjustable onboard preset to control Bass, treble, and mid. If you want a Bass Treble board with a gainer then you can choose this board.
4. Ajuja BT
As you know the Ahuja amplifiers Are very popular amplifiers for PA( power Audio) And public amplifiers. 
This Ahuja by the board is similar to Ahuja pa bt or a simplified version of Ahuja Original BT. This Board Also works with four transistors. And the audio clarity will be Better than ATC Bt. This Board also works with 12v single supply DC. 
5. Bt 6
This board works with Six transistors. The board is designed By a Public address amplifier BT circuit.
So this board gain and clarity will be similar to What you hear from the public address amplifiers. Or PA systems. This board works with a 12v single supply DC. This six-transistor Bass treble board can give you better results than the Ahuja bt.
We Read the all above boards are Transistor based Bass treble boards. Now we are going to see if the boards will work with IC-based operational Bass treble boards. What is the difference between Transistor BT and Operational BT?
When you use a transistor BT that board operation level will be very limited. Whereas When you use an operational amplifier board you can control the Bass treble and gain connection. That's why This type of operational amplifier board is more Popular than a transistor amplifier.
6. LM324 Bass treble board
This lm 324 Bass treble board is also called two band Equalizer BT.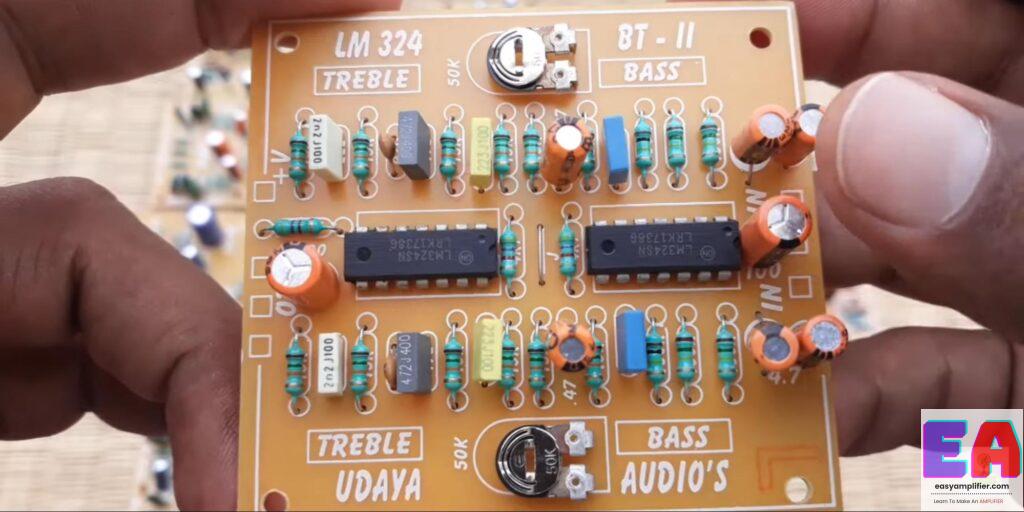 You can control Bass and treble with this board this lm324 IC Can be Works with both single and dual power supplies. It will work perfectly with Both power supplies. This is a universal Matching BT because this board can deliver High-performance audio quality with any power amplifier board. 
This board comes with two variable Presets so you can control Bass and treble. At the same time, This board comes with three Lm324 IC(three-band Equalizer BT). On that board, you can control Bass, treble, and Also voice control. That board Also works with 12v single Supply DC. 
7. 4558 BT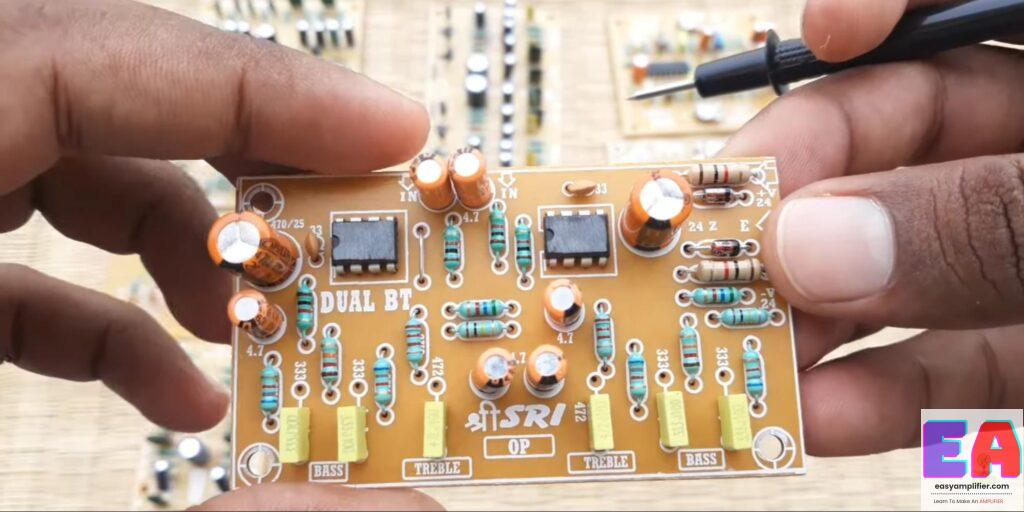 This board can be worked with 4558 IC with dual power supply Connection. This board works with 24v dual supply DC. You can use up to 40v input by changing the power supply input Resistor value. 
So every board Can deliver different types of audio effects so you should choose a Bass treble board according to your Power amplifier board matching and Your Audio Taste. I will write separate articles on how to Alter the bass Treble board according to our taste in the upcoming days.
So that's all Friends If you want any boards you can contact me Through WhatsApp Don't forget to follow me on Facebook. Thank you, friends.