Hai music lovers today in this article we are going to read about this max win brand 5v Usb buck converter
Table of Contents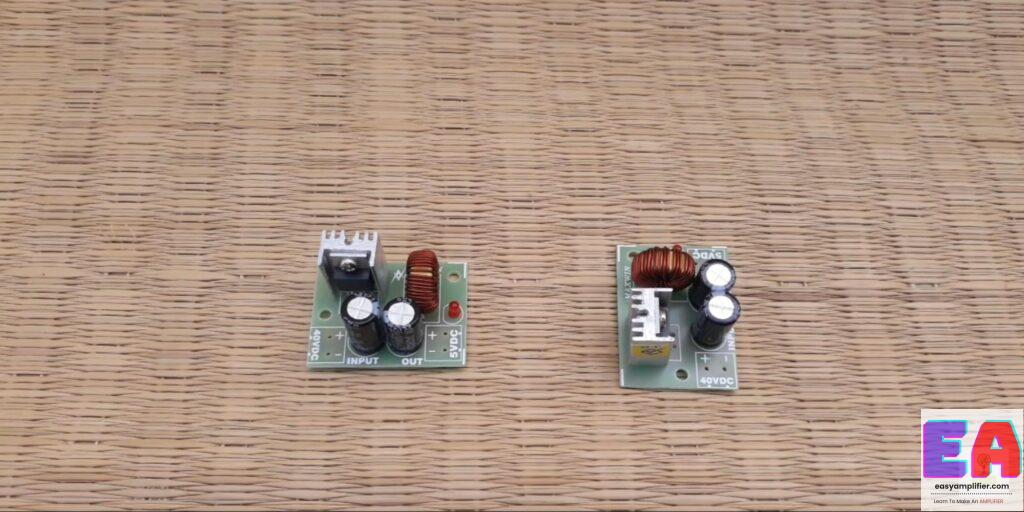 There are two types of Buck converter boards available in the market which are Buck converter and boost converter. The buck converter can give you a fixed Voltage with a constant current. And the boost converter will Increase the voltage from what you give.
And another board is available in the market where you can adjust the voltage according to your Need. I will write a separate article about that board in the upcoming days.
Difference between a 5v regulator and a 5v USB buck converter
Today in this article we will read about this 5v fixed USB buck Converter board. This board has some advanced features and Advantages which is This board Can give 5v And 3 amps Supply. So you can use this board For 5v Operated applications. We mainly use this board for Amplifier MP3 and MP5 board power supply. because if you give More than 5v, that board will stop working and fail. 
For an MP5 board, You need to give at least 5v 2 amps to Run continuously without error. Because if you play a movie from a Hard disc or external pen drive etc, that external source Power supply should be given from the MP5 board. If the MP5 board Has a low Current Rate then The file or movie does not even play anymore. That's why I strongly recommend this 5v USB Buck converter. 
This board has some advanced features like If The 5v Application Ic or any other components fail this board goes into protection mode. And if you connect this board with the wrong polarity Then This board will go into protection mode. If anything wrong happened this board would stop working. The LED will be on if you fix the problem.
in this board They are using Lm2576 So this ic can give you a fixed 5v supply with a 3 amp current. If you want to know more about this regulator ic Click here to read this ic datasheet.
Now We Are Going To see this USB buck Converter Input And Output connection details
All the connections are clearly mentioned on the PCB. This board works with Single supply DC. You can give up to 40v DC input and get 5v DC output without giving more than 40v.
other uses of this USB buck converter
This board is mainly used for amplifier Usb MP3 and MP5 boards. But you can also use this board for fast mobile charging purposes Like Bike and Truck vehicles because this board can give 3 amps Output so your mobile will charge quickly compared to any other vehicle charger. 
I will write a separate article about how to use this board as a mobile charger in the upcoming days. This board is Available for sale from me, if you want this board you can ask me in the comment section or on WhatsApp or Facebook.
And if you have any questions regarding this board you can ask me in the comment section. I am here to help you… you can ask me which types of boards you want to Review. 
Please share this article with your Friends Thank you